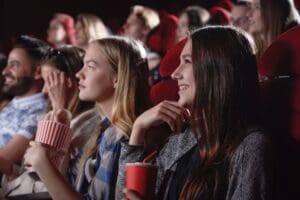 Metro Moola is back in Nu Metro cinemas everywhere this summer from 1 December 2021 to 18 January 2022.
This promotion rewards movie-goers with the chance to get free movie tickets. Collect Metro Moola with every Nu Metro movie ticket purchased between 18 January.
Once three Metro Moola have been collected, redeem them to receive free complimentary regular 2D movie ticket at select Nu Metro cinemas between 19 January 2022 and 3 March 2022. This promotion is also applicable to tickets purchased online.
For over 80 years, Nu Metro has been a leading South African cinema exhibitor. There are currently over 25 Nu Metro cineplexes with 179 screens spread across cities in Southern Africa.
The free Complimentary 2D movie tickets can be redeemed at all Nu Metro Cinemas, across South Africa, Zambia and Mozambique between 19 January 2022 and 3 March 2022.
Venue: Nu Metro Cinemas nationwide
Tel: 086 124 6362
Email: hello@numetro.co.za
Website: numetro.co.za
Instagram: @numetro
Facebook: @numetro